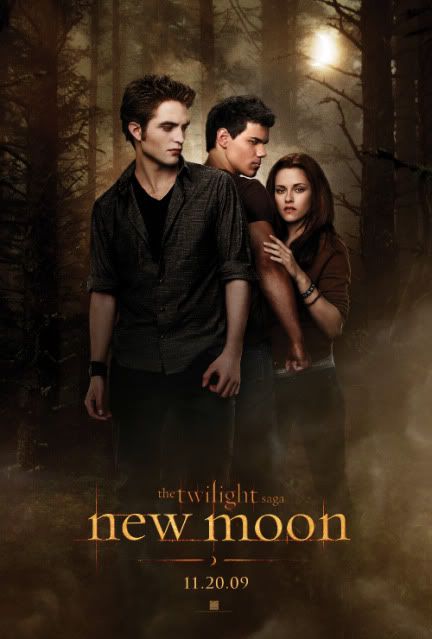 I thought I'd do my own little review of New Moon since it's been something I've been looking forward to for so long! WARNING: This review will be spoiler heavy! I'm not holding back!
To say that I'd been looking forward to and anticipating this film would be a gross understatement. I've been drinking in the Twilight saga since I picked up the first novel in May of 2008. I simply can't get enough and the many trailers and bits of film footage we saw prior to the film release only served to fuel that anticipation.
Like so many others, I attended the midnight release of this film. The energy in the theater was magical and it was fun to see myriads of people so excited for this event.
The film begins with an image of a full orange moon which takes up the entire screen. It begins rotating around until the full title of the movie is revealed. Once the title is the only thing on the screen, we hear Kristen Stewart narrate the passage from Romeo & Juliet at the beginning of the book:
These violent delights have violent ends
And in their triumph die, like fire and powder,
Which, as they kiss, consume
And from there, I was completely and utterly captivated. This film is a bold improvement from its predecessor, Twilight. Director Chris Weitz worked magic and brought this story to life in a way I never could have imagined.
I was delighted to see the film open with a dream sequence which encompassed both the book's preface as well as Bella's dream about her Gran. It was beautifully done and I knew at once that I was in for a spectacular ride.
The scenes in this film flow together so magically and each scene change felt like a very natural progression as opposed to a series of abrupt changes. Weitz cleverly melded it all together in such a way that it felt smooth and uninterrupted and yet didn't feel rushed at all.
Kristen Stewart's portrayal of Bella Swan was stunning and she absolutely nailed the character. It's obvious that she put her whole heart and soul into this performance because she embodied the character so completely. Her facial expressions spoke volumes when no words were uttered. To see her in the forest when Edward leaves brought me to tears. You could feel the hole being ripped in her chest as she hyperventilated. And you felt her pain as she lay on the ground in a curled up ball of despair. Her post-break-up catatonic state of depression could not have been portrayed any better. When she spoke to Jacob in the rain outside his home I was again nearly moved to tears because her facial expressions and mannerisms portrayed her pain in such a way that you couldn't help but feel it in your own chest. At other times, it was wonderful to see her so happy when she was with Jacob and to see her smile and laugh. In this film Bella went from being a timid and somewhat shy girl to a self-assured young woman and Stewart portrayed that progression and growth beautifully.
Taylor Lautner's performance was out of this world! It was an amazing experience to see his character change so much from Twlight. Like Stewart, I felt as though he really loved this character and transformed himself to completely embody Jacob Black. His bits of humor and sarcasm were refreshing and his heart felt pleadings, emotional. I don't think anyone else could have brought Jacob Black to life the way that Lautner did.
Although we don't see much of Robert Pattinson in this film, his performance was beautiful. He has a way of expressing pain in his facial expressions such that words are not necessary. I found myself absolutely hating Edward Cullen as he led Bella into the forest and I was so angry at him. By contrast, I fell in love with him all over again as he was reunited with Bella in Volterra. To see him stand up to the Volturi in a show of protection for Bella was amazing.
The music in New Moon deserves an award! Let me start with the standard soundtrack. The songs that were selected for different scenes fit and matched those scenes completely! When the scenes were happy, the music was upbeat and you really felt those emotions. And when the scenes were somber, so too was the music. During somber moments the music chosen was slower and had more flat notes. There were two scenes and songs I was most impressed with. The first is Possibility by Lykke Li. It was the absolute perfect song to encompass Bella's deepest state of depression. The other was Hearing Damage by Thom Yorke. There was a series of simultaneous events occurring while this song played and the music paced them all very well and perfectly represented the mood. In addition to the amazing soundtrack is the hauntingly beautiful score. I've never been one to appreciate film scores much but this film certainly has changed my mind. I've never heard such absolutely gorgeous music playing during a film. It's mesmerizing and once again perfectly embodies the many moods of this film. I am thrilled to add such beautiful music to my collection. Bravo Alexandre Desplat and Alexandra Patsavas!
I found myself falling in love with so many scenes in this film but here are a few things that I loved most:
~Edward Cullen reciting Shakespeare! Namely this:
...O, here
Will I set up my everlasting rest,
And shake the yoke of inauspicious stars
From this world-wearied flesh. Eyes, look your last!
Arms, take your last embrace! and, lips, O you
The doors of breath, seal with a righteous kiss
A dateless bargain to engrossing death!
~Charlie Swan's humor
~Alice Cullen jumping over a railing to wish Bella a happy birthday (and every other scene with Alice)
~Bella's many facial expressions
~Anna Kendrick's portrayal of Jessica Stanley - every scene she was in was gold!
~Bronson Pelletier's portrayal of Jared - His smile and sense of humor are infectious!
~Seeing the love between Sam and Emily
~Bella's wardrobe
~A shirtless wolf pack!
~The Volturi
~Bella running through Volterra
~Bella and Jacob in the rain
~Bella and Jacob on the beach
~The banter between Bella and Jacob about age
~Laurent
~Wolves!
~Victoria! She didn't have a single speaking part in the film but her performance was outstanding! I'm terribly sad that Rachelle Lefevre won't be back in Eclipse.
~The moment that Quil Ateara introduces himself to Bella
~Harry Clearwater and his kung fu skills!
~I absolutely loved that Bella continued to write undeliverable emails to Alice after the Cullens left town. It was an absolutely perfect way to see what was going on in her head and to see how much she was hurting.
I could write so much more about the things I love about New Moon but I'll leave it at this for now. This was a beautiful and phenomenal film. I've seen it twice and hope to see it many more times on the big screen, followed by a few thousand digital viewings. This is officially one of my favorite movies of all time. Kudos to the cast, crew and to director Chris Weitz for giving us such a beautiful slice of Twilight saga magic to forever enjoy. My heart is happy!