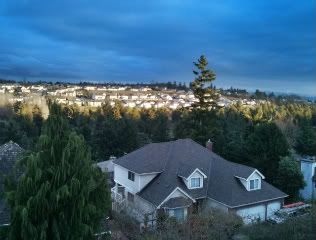 I thought I'd do a little January recap since this month has been incredibly busy for our family. December wasn't such a great month for us in a lot of ways. But despite how busy we have been this month, I'm happy to say that overall it's been a wonderful month and I think Mike and I are in a place in our marriage that is better than we've ever been. That is most important to me because as long as that is strong, then the rest will fall into place.
We rang in the new year on a ferry boat as we watched fireworks over Seattle. My mom was here from Hawai'i and we were also with John, Jodi, and their crew. It was a BLAST... so much so that I think I'm going to make New Year's eve my priority holiday next year!
Mike left Washington not once, but twice this month. He spent a few days in Vegas for business and I REALLY wanted to go with him but it just didn't work out. If goes to the CES conference next year, I'm definitely going to plan on going with him. My mom will be back next year and she has already told me to let her know when the conference is so that she can make sure she stays through that time to help take care of the boys. I'm so excited. (You know it's pathetic when you are excited about a trip with your husband to Vegas while he attends a work-related conference. A conference, mind you, that is an entire year away! We haven't really left our kids overnight with anyone but one time. It's hard to find people that will take the kids for overnight trips.) My mom is also coming in September and she said she'll watch them if we want to leave for a few days then too. Yay! Anyway... Mike also went to L.A. for the first time last week. It was just an overnight trip but we missed him still the same.
I got to meet a former coworker and dear friend for lunch this month. I haven't seen Pam in a long, long time and it was awesome to catch up with her. My only regrets are that the time went way too fast and that she lives so darned far away. I am so happy we reconnected!
Jodi and I got to go and see 100 Monkeys perform in Seattle... a major highlight of the month!!
I think I finally got my second job situation straightened out. It's been months and months of agony trying to get through orientation, poor communication with the manager, and a new-hire evaluation done. But somehow, I made it through all of that I'm now just a "regular" employee instead of orientation. I've since worked two shifts on my own and they have both been very pleasant. This second job is a blessing to our family. I worked there on Thursday night and when the manager came in Friday morning, she even smiled at me and said "good morning". WOW... this is a huge improvement!
We welcomed two beautiful nieces into our family this month. Sabrina was born on January 11 and Blair was born on January 30. They are gorgeous and healthy and our family is blessed.
Our own son Ethan turned 8 years old on January 13. What a huge, huge milestone that was!! We took him out to dinner at Claim Jumper (his choice) and we saw Alvin & the Chipmunks: The Squeakquel as a family. It was a really fun night. I didn't even have to bake a birthday cake because Ethan requested that instead of cake, he wanted the gigantic ice cream cookie sandwich at Claim Jumper. So we had that with a candle on it. Yum!
Ethan had his bishop's interview this month for his baptism. He is so excited and so are we! Due to work schedules, we are having his baptism a little later in February. He is busy planning the program right now and is really looking forward to this milestone event in his life.
Ethan also started Cub Scouts this month! I have a Cub Scout! WOW... it is mindblowing to think that it seems like only a few months have passed since I was holding him as a newborn. Now he's planning for the Pinewood Derby and looking forward to all that cub scouting has to offer!
Sadly, a coworker of mine lost her husband in an accident on January 26, just two days after giving birth to her third child. We still do not know all the details surrounding his death, but we certainly mourn and pray for her. The nursing staff on my unit are holding a bake sale tomorrow in her honor to raise funds to help her out. Her children are ages newborn, 1 and 2. I can't imagine...
And unfortunatley, as I've already written about in detail, our home was robbed a little more than a week ago. As I've stated before, we are blessed in that nobody was home, nobody was injured, and the only things taken were of material value. I pray for the thieves that broke into my home. I hope and pray that they will find peace in their lives such that they will no longer make the choice to engage in this kind of destructive behavior.
And lastly, we enjoyed a wonderful day at church today. It was ward conference and I learned so much. There seems to be a real focus this year on the basics and I think it's very timely. Right now it seems as though the world is very chaotic. There is SO much going on around us. So many people are having difficulties with things in their lives. So I think that getting back to the very basics is so important. After church was done, we went over to the Worrells' home and enjoyed the afternoon with them. We got to meet their new puppy Jasper (yes, he most certainly IS named after the Twilight character!!). Our boys enjoyed playing with theirs. We enjoyed talking and the comeraderie of friendship. Of course we enjoyed a splendid meal as well. We mentioned before that we'd never had a fried turkey before and so John made one! We enjoyed turkey, mashed potatoes, bread and green beans. And we had brownies for dessert. The food was amazingly good. Mike and I both agree that we would LOVE to have fried turkey again in the future... it was wonderful! The picture at the top is the view I caught looking out from Jodi's deck. Spectacular view!
That wraps up a very busy and eventful and blessed January!! I should also mention that it's been unseasonably warm this January... in the 50s nearly every single day and not a flake of snow or a speck of ice to be found! We are NOT complaining... it's been wonderful! February holds much more in store for us. Mike is traveling again, we are celebrating our 11th anniversary, and Jodi and I are escaping to another concert! On Wednesday night we are heading out to see Elton John and Billy Joel perform at the Key Arena (FINALLY!!) This is the concert that was canceled in November due to illness. So it's been a LONG wait. I believe I bought these tickets last March or April. Feels good to finally use them! And of course on the 27th, our Ethan will be baptized. There is so much to look forward to!